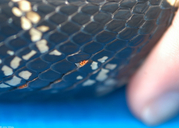 An unfortunate part of owning any snake is the possibility of your snake getting mites. Snake mites are very small arthropods that feed on the blood of your snake. Just because your snake gets mites does not mean that you have mistreated the snake in any way it is just something a snake owner must deal with from time to time, just as a dog owner must deal with fleas every once and a while.
The bad news with snake mites is that they are species specific so no matter what type of snake you own you are susceptible, but the good news is that the snake mites will not harm you or your family as they only want the blood of from your snake, not from you. Other family pets such as cats and dogs are also safe and not at risk.
The easiest way to determine if your snake has mites is to examine it thoroughly, which should be done on a routine basis anyway. Most snake mites will congregate around the eyes, nostrils, and the area under the snake's chin known as the gular fold. Snake mites will look like tiny black or red specks on your snake and you can even sometimes see the feces of the mites that show up as white flakes on your snake's skin. A lot of times when a snake has mites it will submerge itself in its water dish in an attempt to drown the mites. If you notice your snake over-soaking itself then you should check your snake as well as the water bowl for mites. Just be careful to not confuse dirt in the water for mites.
Dealing with snake mites is no fun, but if you want to be a snake owner it comes with the territory. It is simply something that can and will happen from time to time. But with proper care and early detection, snake mites can be easily controlled and you can go on enjoying your pet snake.
Click here for a detailed articles on the detection, treatment and removal of snake mites
Natural Chemistry's Reptile Relief - 16 fl. oz.
De Flea Pet Shampoo - Kills Mites on Contact! Safe and Easy to Use.
The only EPA registered mite product that requires no warnings on the label. Can be applied directly on the reptile. Contains no pyrethrins or similar chemicals.

NOT FOR USE ON AMPHIBIANS SUCH AS FROGS AND/OR TOADS.

Our philosophy since 1989 has been:
"It's not enough to be safe and non-toxic... each product must outperform its synthetic and non-friendly counterpart."